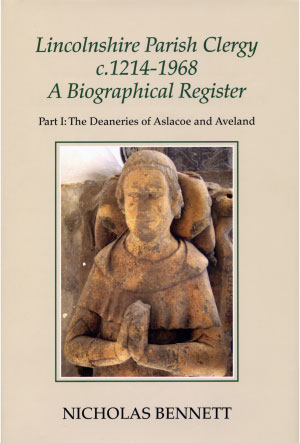 Volume 103                             Lincolnshire Parish Clergy c.1214-1968: A Biographical Register. Part
Read More..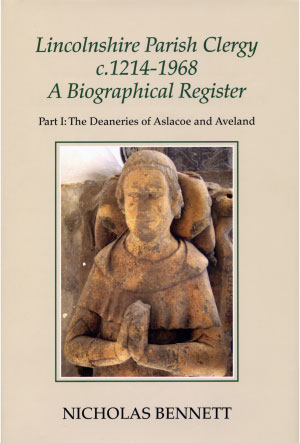 Volume 103                             Lincolnshire Parish Clergy c.1214-1968: A Biographical
Register. Part I: The Deaneries of Aslacoe and Aveland

Editor                                      Nicholas Bennett

Publication Date                     2013

Size                                         235 x 155 mm

Language                                English

Publisher                                 A Lincoln Record Society publication published by the Boydell Press an imprint of Boydell & Brewer Ltd PO Box 9, Woodbridge, Suffolk, IP12 3DF and of Boydell & Brewer Inc. 668 Mt Hope Avenue, Rochester, NY 14620-2731, USA

Website: www.boydell.com

Printed & bound                     TJ International Ltd., Padstow, Cornwall

Papers used by Boydell & Brewer Ltd are natural, recyclable products made from wood grown in sustainable forests (confirmed as acid free paper)

ISBN                                       978-0-901503-96-1

Content                                   Contents, 2 pages

List of Illustrations and Maps, 1 page

Acknowledgements, 1 page

Abbreviations, 18 pages

Introduction, 10 pages

Deanery of Aslacoe, 177 pages

Deanery of Aveland, 193 pages

Index of Persons and Places, 100 pages

Dust jacket blurb                    The parish churches of Lincolnshire are justly celebrated. The spires of Grantham and Louth, and the famous Boston Stump, provide a focal point from the surrounding landscape of fen, wold and marsh. The charms of remote country churches along the byways of the county have been extolled in prose and verse by writers such as Henry Thorold and Sir John Betjeman. Their architecture, their stained glass and sculpture, furniture and fabric, have all been carefully recorded. Yet little is known of the people who served these churches, the rectors and vicars who, in word and sacrament, taught the Christian faith to successive generations of parishioners.

This volume forms the first part of a much-needed survey of Lincolnshire parish clergy. The starting point is 1214, when Bishop Hugh of Wells introduced the earliest system of episcopal registration in Western Europe. The magnificent series of Lincoln bishop's registers provides a framework for the parish lists, setting out the succession of rectors or vicars for each church. Brief biographical sketches demonstrate the rich variety of the county's parsons - pastors, scholars, travellers and writers, soldiers and schoolmasters; while some, like John Wycliffe, achieved a wider fame. This biographical register gives to each of them their place in the history of Lincolnshire.